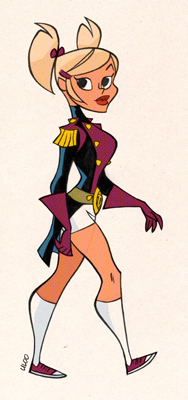 Darcy Dare, 2007, ink with digital color.
Architect Eliel Saarinen said, "Always design a thing by considering it in its next larger context—a chair in a room, a room in a house, a house in an environment, an environment in a city plan."
Darcy's current story, her larger context, is much about legacy so I tried to keep that in mind as I drafted the image above.
Larger context of a different kind: At the dawn of the 21st Century, I drew Darcy Dare in my wife's notebook. Since that time Darcy's appeared in a paper miniatures set (2002) and a short-lived proposal for an animated series (2004).