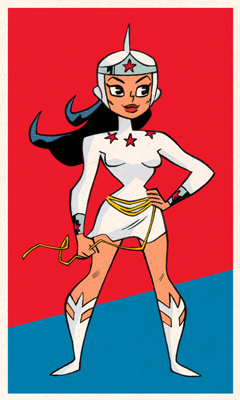 Wonder Woman, 2007, ink with digital color.
I submitted this design for the Wonder Woman Wardrobe War at Project Rooftop. True to form, I learned of the contest only a day or two before the deadline.
A few comments on the design: As always, I favor minimal detail. I'm fond of Diana's various white phases and white works for an ambassador of peace. In contrast, the crested headgear's a nod to Diana's martial roots. I imagine this costume in a League line-up and I think it manages to both blend (align in simplicity) and pop.
I'm excited to see the other entries! Fun!
Wonder Woman created by William Moulton Marston. Wonder Woman, the distinctive likeness thereof, and related elements are trademarks of DC Comics.