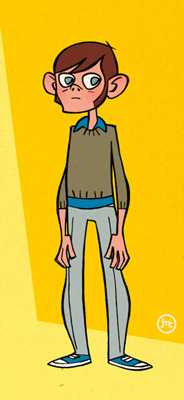 Self-portrait, 2008, ink with digital color.
As I was coloring this, my wife told me it'd look good with red pants.
"But I don't own any red pants," I complained.
"Maybe you ought to," she replied.
In other clothes-related news, I'm fairly convinced that Bryan Lee O'Malley's characters are the best-dressed in comics.
UPDATE: I've a crowded schedule, so I'm resting the weblog during the month of March. Meanwhile, I invite you to investigate a few friendly links (see sidebar)!