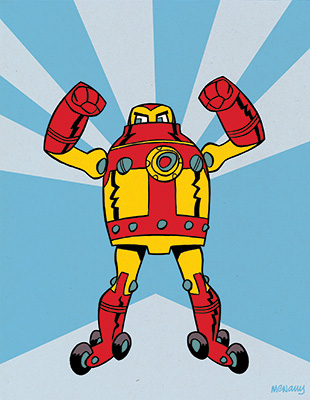 M.A.D.I.M.F.* Iron Man!, 2008, ink with digital color.
I hesistated to submit an entry for the Iron Man: Invincible Upgrade at Project Rooftop. The meaning and the appeal of Iron Man have always been for me a tad elusive. Still, I did a bit of research and was reminded that changes in costumes and equipment are a significant part of the Iron Man myth. There's been stealth armor, underwater armor, etc.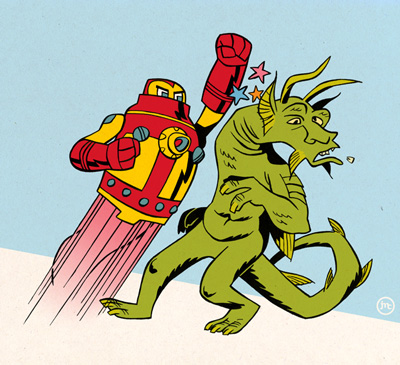 M.A.D.I.M.F. Iron Man in Action!, 2008, ink with digital color.
So, rather than focus only on the looks of the basic armor, I decided to draw a nifty new armor for Mister Stark's collection. Inspired also by another Iron Man, I imagined a giant-size armor built to tackle all those fearsome Marvel Monsters! I imagine he's got all the essential giant robot features, like rocket fists and missile fingers ... but I guess I'll have to depict those in future drawings.
* Mega Atom Drive Invincible Monster Fighter
Iron Man created by Heck, Kirby, Lee, and Lieber. Iron Man, the distinctive likeness thereof, and related elements are trademarks of Marvel Comics.