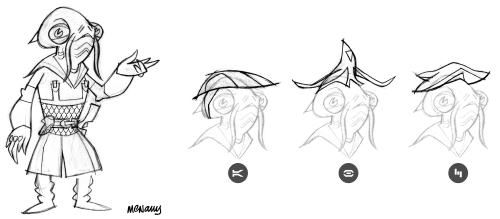 Captain Codskale character roughs, 2011, graphite.
Meet Captain Codskale, a Mon Calamari free trader in a Star Wars tabletop game I've been running monthly for a handful of friends.

I imagine the good captain with headgear so I drew a few caps that seem to me both sufficiently odd and vaguely sea-inspired.

Which do you think best suits him—option A, B, or C?

I can't guarantee the final version will reflect the consensus opinion, but I will send the inked drawing to the writer of the comment that most amuses me, found either here or at my deviantART page. (If you comment here, make sure I can contact you directly.)

STAR WARS™ and related properties are trademarks and/or copyrights, in the United States and other countries, of Lucasfilm Ltd. and/or its affiliates.