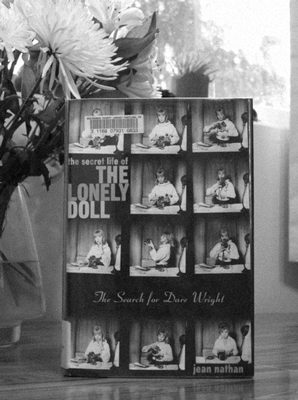 Nathan, Jean Elson. The Secret Life of the Lonely Doll: The Search for Dare Wright. New York: Henry Holt and Company, 2004.
Last week I finished the most haunting book I'll read this year, The Secret Life of the Lonely Doll, a biography of mysterious photographer and children's book author Dare Wright.
Dare created art to survive, to make sense of a world both enticing and terrifying to her. Using fairy-tale and childhood imagery, Dare explored "living in the world" in each of her books, as well as in her personal photographic portraits.
I'm uncertain whether I read Dare's most famous book, The Lonely Doll, as a child. Despite lack of foreknowledge I found Dare's own story arresting (albeit upsetting and sad, too). I'm certain I'll be thinking about her story and her approach to art-making for a long time to come.
UPDATE: In 2008, a film based on the life of Dare Wright begins production, with Julian Schnabel in the director's chair.
Link to Powell's listing for The Secret Life of the Lonely Doll