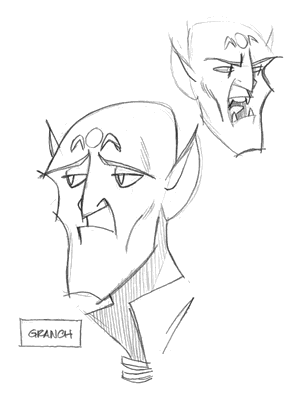 Granch, 2007, graphite.
Any Amethyst fans out there?
This summer I've enjoyed the original Amethyst maxi-series. The story's fun fairy-tale fare and the art's by one of my long-time favorites, Ernie Colón (with letters by John Costanza, also a fave). All the fun's bound to rub off on me (and from me onto a couple of things sitting in my sketchbook).
Wait, maybe that's ink from the newsprint.
It's interesting—although Colón had significant comics experience prior to this series, I think I see marked improvement from issue to issue of Amethyst. I admire Colón's ability to draw engaging adventure mags like this and humor mags like Richie Rich.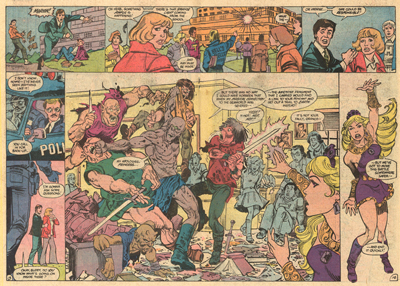 Excerpt from Amethyst, Princess of Gemworld, Vol. 1, No. 5. Credits: Dan Mishkin and Gary Cohn (writers), Ernie Colón (artist), John Costanza (letterer), Tom Ziuko (colorist), and Karen Berger (editor). Copyright © 1983 DC Comics Inc. Used here only for review and discussion purposes.Amethyst created by Dan Mishkin and Gary Cohn. Amethyst, Granch, the distinctive likeness thereof, and related elements are trademarks of DC Comics.