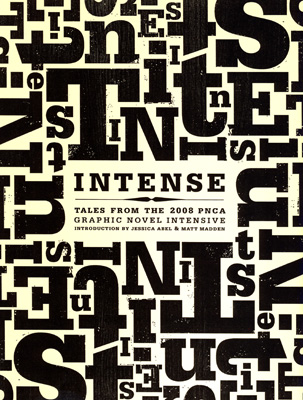 Jessie Bazata, Cover Art for Intense Collection, 2008.
Remember that li'l comics collection I mentioned a few months ago? Well, Intense is here, it looks splendid, and it's jam-packed with entertaining stuff (see November 17, 2008 post for a peek at my contribution to the book).
Fellow contributors include:
Ezra Ereckson
Chris Hazell
Randall Jahnson
Marco Kaye
Jefferson Powers
Gregory Tozian
Kevin Uehlein
Other Intense info:
48 black-and-white pages
Special 20-page mini-comic
Intro by Jessica Abel and Matt Madden
Thanks in particular to contributors Jeff Powers (who collected the material and prepared it for print) and Greg Tozian (who selected the printer and negotiated the job).
Dreaming about your very own copy of Intense? Send an e-mail message to hellouloo [at] jonmcnally [dot] net and I'll reply with confirmation of availability, price, etc.