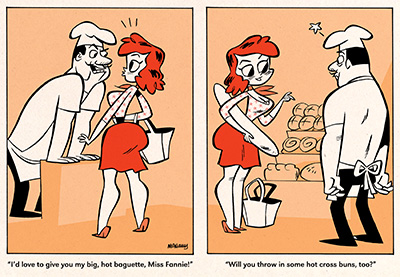 Excerpt from Fannie Firecracker, 2009, ink with digital color.
Stumptown Comics Fest 2009 is a fading memory. Kudos to Stumptown staff and volunteers and thanks to my PNCA comrades, with whom I shared a table.
I was only there half the weekend but I didn't pass up the chance to purchase cool stuff directly from cool folks like Alec Longstreth, Maris Wicks, and Liz Prince. It was nice also to meet Joe Quinones, soon to be beloved by Green Lantern fans everywhere.
Following its Stumptown premiere, the Fannie Firecracker fold-out mini-comic is now available to you, my web community!
Specs, revisited: Eight colorful panels printed on cardstock. Measures 5.5 inches by 4.25 inches folded, 5.5 inches by 17 inches unfolded. Hand-decorated wrapper. Price three dollars ($3) U.S., plus shipping and handling.