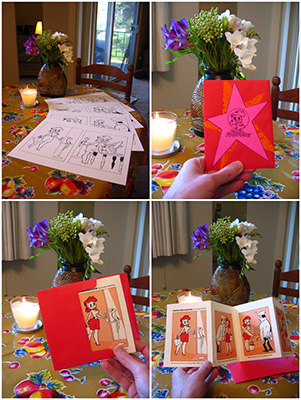 Fannie Firecracker Original art and fold-out comic, 2009, mixed media.
Ready to sell! Here's a first look at Fannie Firecracker, the eight-panel fold-out comic my clever co-conspirator Liska and I prepared for Stumptown Comics Fest 2009!
Liska and I knew early on that we wanted to present our fold-out comic as a small, crafty package. Liska volunteered to decorate envelopes to hold the comic. A great idea!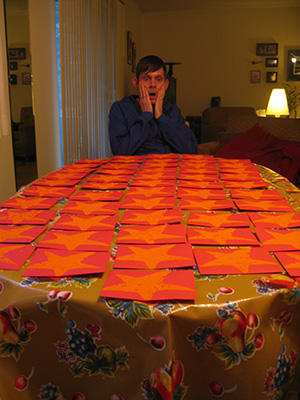 Cornered by Decorated Envelopes!
We guarantee your copy of Fannie Firecracker will contain:
Eight (8) colorful panel-pages
One (1) hand-decorated envelope
At least three (3) instances of silly innuendo
One hundred copies of Fannie Firecracker will be available for three dollars each this weekend at Stumptown Comics Fest in beautiful Portland, Oregon. Run to Table 2 and snag your copy! See you there!