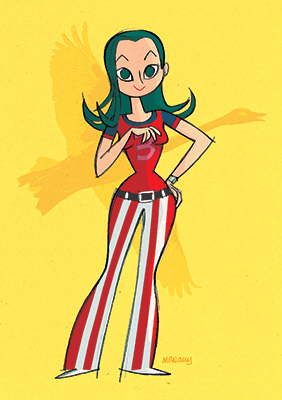 G-3 (Jun the Swan), 2009, graphite with digital color.
Since the release of the Speed Racer feature film, I've discovered a love for the work of Tatsuo Yoshida.
I could say, "rediscovered a love," although as a kid I had no clue that my beloved Speed Racer and Battle of the Planets (originally Gatchaman) were created by the same person.
Looking at both series with adult eyes, the similarities are clear and wonderful. Both series feature simple yet flashy designs with great colors. Both series feature family units of a kind and hefty helpings of melodrama.
Also, as a person who lost a parent at an early age, I greatly appreciate the mysterious masked figures present in either series, Racer X in Speed Racer and Red Impulse in Gatchaman. Whew, it's powerful stuff.
I'm wary of the CG Gatchman film in the works but I hope, if nothing else, we'll see a fresh release of the original TV series on DVD to coincide with the film's release.