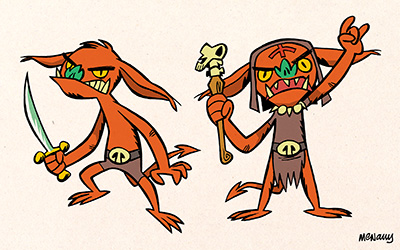 Goblin Adversaries, 2009, ink with digital color.
As you may know, I have a lasting affection for tabletop role-playing games (RPGs). During the summer I was tickled to discover a number of do-it-yourselfers publishing games which emulate play of RPGs long out of print (especially versions of a certain well-known fantasy role-playing game).
For example, Mythmere Games publishes Swords & Wizardry, a game intended to approximate a simpler, mid-Seventies RPG. Other titles include Labyrinth Lord and Mutant Future, both published by Goblinoid Games. Works like these are permissible under something called an Open Game License (OGL). Neat, huh?
Now I'm itching to test one of these babies! To prepare for play, I'm drawing a handful of characters that I'll make into paper miniatures, hence the goblins pictured above.
Who's ready for fortune and glory?