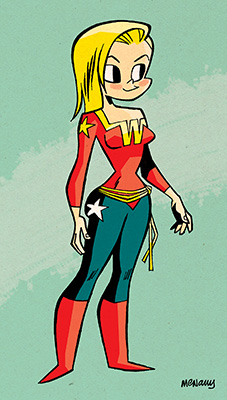 Cassie's Wonderful Threads, 2009, ink with digital color.
Summer's a great season for superheroes and superheroines. Something about athleticism and primary-colored costumes, perhaps?
Cassandra Sandsmark, the current Wonder Girl, celebrated the new year (2009) with a new costume. Image above and words below I composed in response ...
... Oh, Cassie. I see you've changed your costume again.
You've conjured a new pair of jeans, donned an armored collegiate sweater, and dropped the bracers, even. There's a colloquial charm in these (arguably) street-ready threads but are they appropriate dress for superheroics?
Consider your predecessor's clothes: Donna's costume in NEW TEEN TITANS was a wonder of economic, elegant design, truly a heroine's costume. Her current starry suit ain't half bad, either.
We'll spare you an all-red get-up; you tried that and, I must agree, it didn't always work. Also, we must control the blue, lest we mistake you for Kara, and temper the star motif, lest you remind us of Courtney. We'll respect your decision to omit the bracers, despite my uncertainty regarding your motivation for that decision.
Just wear it on your next couple of adventures, Cassie. Should it fail to wow friends and foes alike, we'll try something else.
Fondly, Jonathan McNally
Cassandra Sandsmark created by John Byrne. Wonder Girl, the distinctive likenesses thereof, and related elements are trademarks of DC Comics.