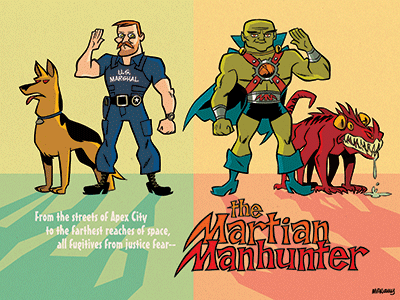 U.S. Marshal John Jones Is The Martian Manhunter!, 2009, ink with digital color.
For those of you who don't know this character, the Martian Manhunter is a person from Mars named J'onn J'onzz who was beamed to Earth accidentally and is now trapped here.
Being a Martian gives him quite a surprising mix of powers. One of his key powers is shape-changing, which he uses to disguise himself as Earthman John Jones, a detective.
I first saw the Martian Manhunter on the pages of Justice League of America 229-230 (which I picked up on a walk to 7-11 with my grandma). In the story, a Martian armada invades our planet and J'onn J'onzz betrays his race to defend the Earth.
Space operatics ensue—the JLA satellite is destroyed, the Manhunter dukes it out with a Martian champion-general type, etc. Since then I've read lots of stories featuring the Martian Manhunter but that one remains one of my favorites.
The image above is my attempt to depict a Martian Manhunter who's ready for the kind of rollicking space action I just described, as well as some serious police work.
Oh, I gave him a shape-changing Martian dog, too. :)
J'onn J'onzz, the Manhunter from Mars, created by Joseph Samachson and Joe Certa. Martian Manhunter, the distinctive likenesses thereof, and related elements are trademarks of DC Comics.