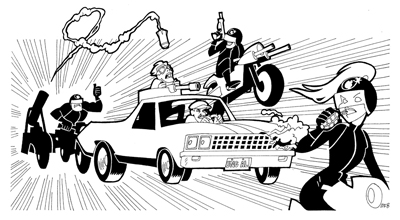 Car Wars Submission, 2000, ink.
Several years ago I was invited by Steve Jackson Games to submit a sample suitable for the relaunch of the Car Wars franchise. I was told they wanted a snazzy "animation" look for the new product(s).
As I recall, I had roughly 24 hours to complete and submit the piece. I ran to the store, selected a few promising Hot Wheels, and got to work. Sending the image took some conniving since I had neither home internet service nor a scanner.
Following a few days of aniticipation, I received an e-mail message which amounted to, "Oh, when we said animation, we meant anime."