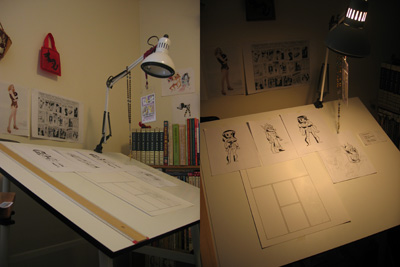 My Drawing Space, 2009, digital photographs.
Here's a peek at the li'l corner where I draw. I hoped some of the panel content would be visible in the right-hand photo but I can only see the vaguest hints of pencil drawings.
Event notice! For those of you in the Portland area, I invite you to drop by Bridge City Comics on the evening of Wednesday, February 25. My fellow Intense collection contributors and I are holding a small release party for the book. Maybe I'll see you there?