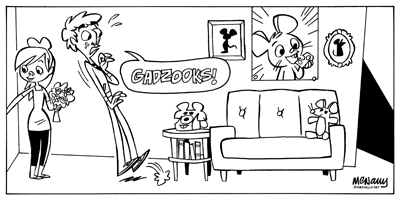 Excerpt from For the Love of Mice, 2008, ink.
Thanks to all the friendly folks who visited Bridge City Comics last Wednesday to help us celebrate the release of Intense! Thanks also to Mike and the Bridge City staff who allowed us to occupy their fine establishment for a couple of evening hours.
During the month of March, original work from the Intense collection (including the page to which the silly panel above belongs) will be displayed at Backspace in Northwest Portland.
Come by the evening of Thursday, March 5, when several of us will be present for First Thursday opening of our show. I do believe our work will be hanging in the rear gallery. See you there!